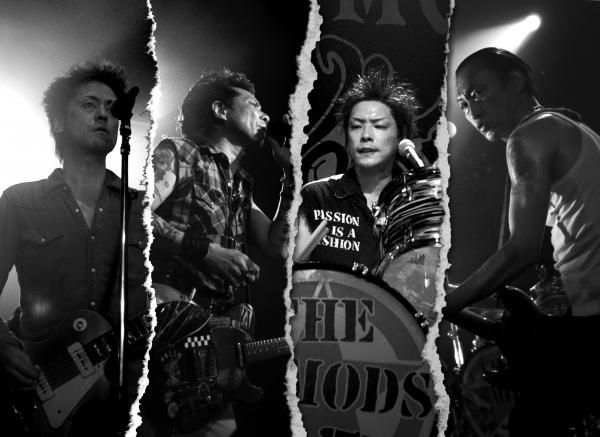 Membres du Groupe :
Moriyama Tatsuya (chant & guitare)
Hiroyuki Chisaki (Guitare & chant)
Kitazato Kouiti (basse & chant)
Zhou Sasaki (Batterie)
Ancien membre

Kaziura Masahiro (batterie)
Biographie :
Le groupe formé en 1973 s'appelait à l'origine Mozz.
Après d'inombrables changement de membres, le groupe
officialise leurs activités avec la sortie du 1er album en 1981.
Leurs influences musicales sont des groupes tels
que les Sex pistol ou encore The Clash.
The Mods a travaillé avec le cineaste Hakata Sogo Ishii,
pour la bande son du film "Crazy Thunder Road".
Ils ont en 2003 joué au Fuji Rock Festival !
Le groupe évolue sous le label ROCKAHOLIC Inc.
Discographie :
♦ALBUMS♦

FIGHT OR FLIGHT 1981
NEWS BEAT 1981
LOOK OUT 1982
HANDS UP 1983
JAIL GUNS 1984
BLUE 〜Midnight Highway 1985
CORNER 1986
JUKE JOINT 1987
YUM-YUM GIMME SOME 1987
EASY COME EASY GO 1988
NAPALM ROCK 1989
PROUD ONES 1990
叛 〜REBEL 1991
F. A. B. 1992
TIES 1993
TRUST ME TRUST YOU 1993
KILBURN BRATS 1995
ZA MOZZ 1996
CLOUD 9 1998
KOWLOON JUNK 1999
Paradice 2000
RISING SUN 2001
COMPADRE 2003
LIVE WITH ROCK'N'ROLL 2004DAILY
HOWL 2005
FREED 2007
MOONSHINER 2008
Gang Rocker... If 2009
SHOTGUN SQUALL 2010

♦SINGLE♦

崩れ落ちる前に 1981
ゴキゲンRADIO 1981
LET'S GO GARAGE 1982
激しい雨が 1983
バラッドをお前に 1984
夜のハイウェイ 1985
BABY BLUE 1985
READY STEADY GO 1986
BREAKIN' MY HEART 1986
ジャマをするな 1987
涙のLAST NIGHT 1988
ACE BOON 1988
NAPALM ROCK 1989
HEY !! TRAVIS 1990
FRIEND OR FOE 1990
それで満足かい? 1990
UNDER THE GUN 〜市街戦 1991
LESS THAN ZERO 1995
今夜決めよう 1996
It's Alright 〜Kissでも決め恋をしよ 358; 1996
Heavy so Heavy 1997
ロメオとジュリエット 1997
壊れたエンジン 1998
junk yard 九龍 1999
IL GARAGE 1999
SPICY SPUNKY PUNK 2001
F. T. W. "Fuck The World" (Scramble Version) 2003
LAST DNA ROCK'N'ROLL 2004
HELLO 2007
LONG WAY(basement take)2007
NEW BLEED vol. 1 2009
NEW BLEED vol. 2 2009
NEW BLEED vol. 3 2010


♦DVD♦

THIS IS THE GANG ROCKER 1981〜1983 1983
HANDS UP (I Crowns) 1984
ROCK THE BLUE 1985
THE MODS 夜のハイウェイ 1985
JUKE JOINT 1987
Yum-Yum Gimme Some Little Live 1988
REVENGE 1991
SCARFACES DRIVE 〜ギャング達の行進 1992
SHADOW 〜SCARFACE NITE 1993 HIBIYA LIVE 1993
LIVE BRATS 1995
ZA MOZZ La VIDEO 1997
〜easy listening ? 〜 1997
LIVE 9+ 1999
IL GARAGE FESTA 1999
HIGH FIVE 2001
It's a Kingsway 〜THE MODS LIVE 2001 2002
Paradice 2003
NO EXCUSE ! 2003
LAST DNA ROCK'N'ROLL 2004
FIGHT OR FLIGHT-WASING 2006
LIVESLINGER 〜YA-ON COMPLETE〜 2007
LIVE FREED 2008
SPEAKEASY 2009
GANGWAY 2010
Liens :